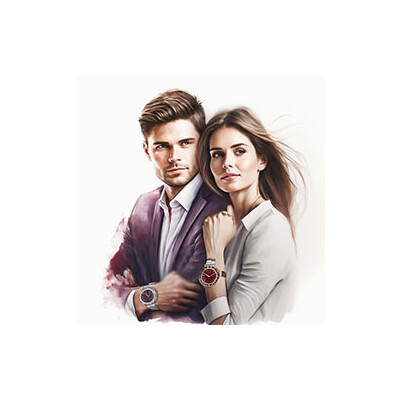 Partner Watch Set: Find the Perfect Watches for Your Love
A watch is more than just a timekeeper - it reflects our style and personality. For couples, it's a special symbol of their connection and love. That's why it's important to choose the right watches for the couple.
Why Partner Watches are Timeless
Partner watches are an enduring symbol of a couple's mutual connection and appreciation. Whether as a special gift for weddings, anniversaries, or engagements, or as an everyday accessory, couples can always show their togetherness with partner watches. Even simple activities like walking or shopping become even more special when wearing matching watches. No wonder partner watches remain a sought-after accessory that never goes out of style.
How to Find the Perfect Couple Watch Set
Styles: Check the styles of the watches you're considering for the couple. We've already selected some watches that match well and provide a harmonious appearance.

Functions: Consider which functions are important for the couple. For example, do they want to be able to display the time in two different time zones?

Personalization: Consider if a personalized touch is important for the couple. An engraved message or date can make the watch even more special. If desired, we are happy to help create a personalized watch. Contact us for this.

Material: Choose the material carefully so that the watches last long and look good.
With these considerations, you can find the perfect couple watch set that meets the couple's personal preferences and needs.
Conclusion
Choosing a watch for a couple is a great way to show togetherness and love. It's important to consider the personal preferences, needs, and budget when making a choice. Our top recommendations offer a range of options that will satisfy any couple. Consider carefully and choose the perfect watch for your love.
---
---
---