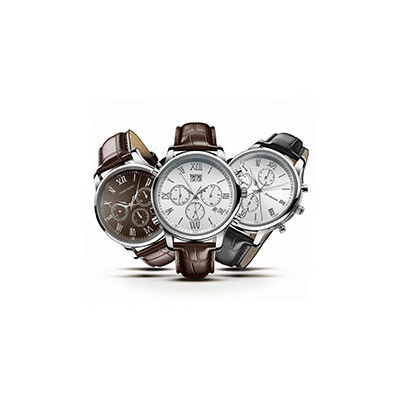 Chronographs: The Ultimate Timepiece
Are you looking for a watch that can do more than just show the time? Then chronographs are just what you need! These watches have a special function that allows you to measure and compare time intervals. Whether in sports, in aeronautics or in medicine - chronographs are an indispensable tool for anyone who needs precise timekeeping.
Chronographs - the measurement of time and space
Probably no other mechanical tool was ever given a greater task than the chronograph. Stopping and measuring time as needed. Equipping a watch with a stopwatch and making it into a chronograph was the idea of Geneva watchmaker Jean Moïse Pouzait, as early as 1776. The invention of the chronograph led to numerous further developments in watchmaking and it led to processes in industry, but of course also athletic competitions, being recorded with a precision never known before. The chronograph became an impartial referee and it still is today.
At Watch House, the chronograph in the selection presented here is given a special position as a fine mechanical feat. We do justice to this milestone in Haute Hologerie with a variety of chronographs that show a fascinating appearance, but also with interesting additional complications. We make sure that the chronograph calibers used meet the highest standards and that the processing of the cases and the straps in quality and execution do not shy away from any comparisons. You will be thrilled and you will have a hard time finding your timepiece from the versatile range of chronographs. But a complicated fine mechanical device like a chronograph deserves for you to make an effort in your search. Here at Watch House you will surely find what you are looking for.
Uses of chronographs
Chronographs can be used in a variety of areas where precise timekeeping is required. Here are some of the most common applications:
Sport: Chronographs are often used in sports such as racing or sailing to measure and compare times.
Aeronautics and space flight: In aeronautics and space flight, chronographs are used to measure times during test flights and to compare them.
Medicine: In medicine, chronographs can be used to measure the duration of medical procedures or diagnostic procedures.
The perfect companion for any occasion
Whether you are looking for a watch for sports, work, or leisure, a chronograph always has the perfect tool at hand. Whether you want to measure times in races or sailing, track test flights in aviation and space, or determine the duration of medical procedures, a chronograph is always the ideal solution. With its precise time measurement and high-quality workmanship, it is the perfect companion for any occasion. So why wait? Visit Watch House today and discover the world of chronographs!
---